Open the stream stats panel (highlighted in orange below) on your camio.com/boxes page: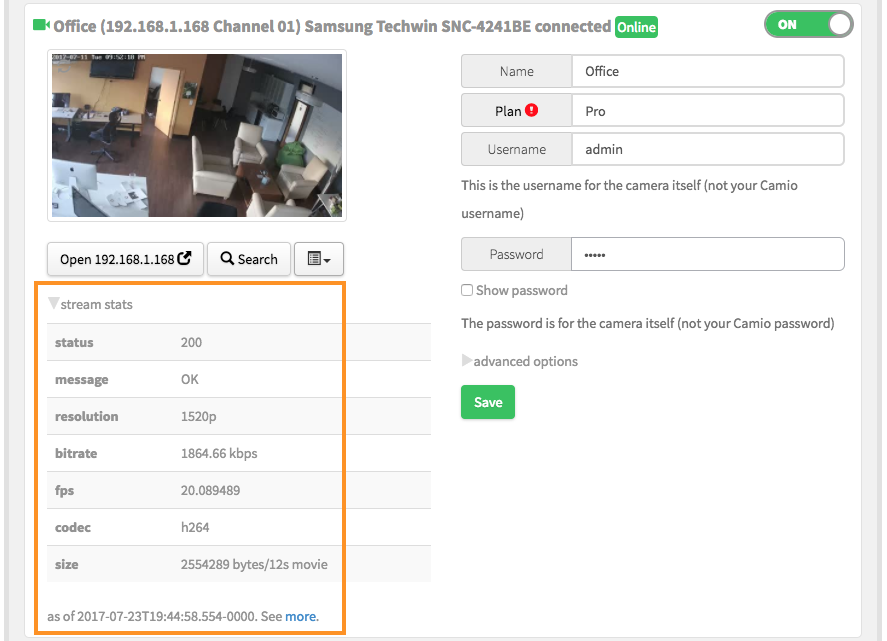 Or, use the camio.com/stats page for technical information about the current state of each video stream connected to your Camio Box. The most important recommendations for stream settings are:
Use H.264 encoding
Camio requires H.264 video encoding.
Set bitrate under 2,048 kbps
Though nearly any bitrate works, something in the range of 1024 to 2048 kbps is usually ideal for the best combination of video clarity and bandwidth efficiency.
Use VBR
Variable bitrate (VBR) is better than constant bitrate (CBR), because the video encoder provides better motion information.
720p, 15 fps or more
The analysis is best with at least 720p resolution at 15 fps. Camio still functions with lower resolution, but its analysis will be less precise.
target >= 2 seconds between I-Frames
Read more in this article about modifying either P-Frames or fps to target >= 2 seconds.
Here is an example of a 1520p video stream with optimal settings. Each 12-second video is 2.5MB and the bitrate is under 2Mbps.
code: 200
message: OK
perc_obtained_frames: 100
width: 2592
height: 1520
movie_size_bytes: 2549976
frame_rate: 20.089489
codec_name: h264
bit_rate_kbps: 1861.5
h264_profile: Baseline
| | |
| --- | --- |
| Field | Description |
| code | The response code returned from attempts to connect to the video stream (200 is good, 401 is bad username or password, 404 is not found). |
| message | The status message that corresponds with the code. |
| perc_obtained_frames | The percent of all frames successfully obtained from the stream. |
| width | Width in pixels of the video stream. |
| height | Height in pixels of the video stream. |
| movie_size_bytes | The number of bytes required for each 12-second video. |
| frame_rate | The number of frames per second. |
| codec_name | The identifier for the encoder used to encode the video (e.g. "h264") |
| bit_rate_kbps | The bitrate in kilobits per second (e.g. 1525.601) |
| h264_profile | The H.264 profile (e.g. "Baseline", "Main", "Simple Profile",...) |
| keyframe_interval | The number of frames between each I-Frame. |

p.s. - If you're a Guest with Can Manage permissions, then you can view these stats by including the email address of the owner of the account as the user parameter in the URL like https://camio.com/stats/?user=owner@example.com.
Code Descriptions
The stream codes are described in full in this help article: https://help.camio.com/hc/en-us/articles/360028928431