Open your video history and enter a query. You can either type your query or click the buttons on the Search panel.
For example, to see people approaching your walkway from your camera named outdoor, you type (as in this video) the query:
people approaching walkway
You can also use natural language for simple dates and times like:
9:30am
3pm yesterday
4pm Monday
12/24 11pm
2am PST 3 days ago
Or type colors like red, white, black, brown and blue.
You can also search for cars and people along with direction of movement like approaching or departing. 
It doesn't matter whether you type your search or click the Search panel buttons. For example, rather than type "brown" you can click the color instead:

You can pin your favorite searches to the top of your Search History by clicking on the thumbtack icon to the left of a recent search: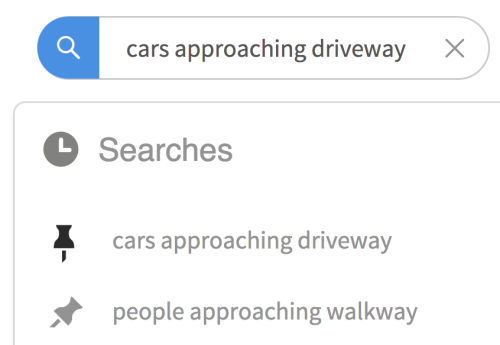 The pinned searches (e.g. "cars approaching driveway") then become the trigger for the alerts on your phone or email. Read more at Search-based Video Alerts. There's a help section on Alerts too.
Even without typing a specific search, Camio shows you only the important Events by default ("Top" Events is the default search). To see everything recorded, regardless of whether it was deemed interesting to you, include "all" in your search or click the "All" button at the top of your screen, to the right of the search bar.
Learn more about how Camio works at https://camio.com/features.
hint: the keyboard shortcut character '/' (slash key) opens the Search box.